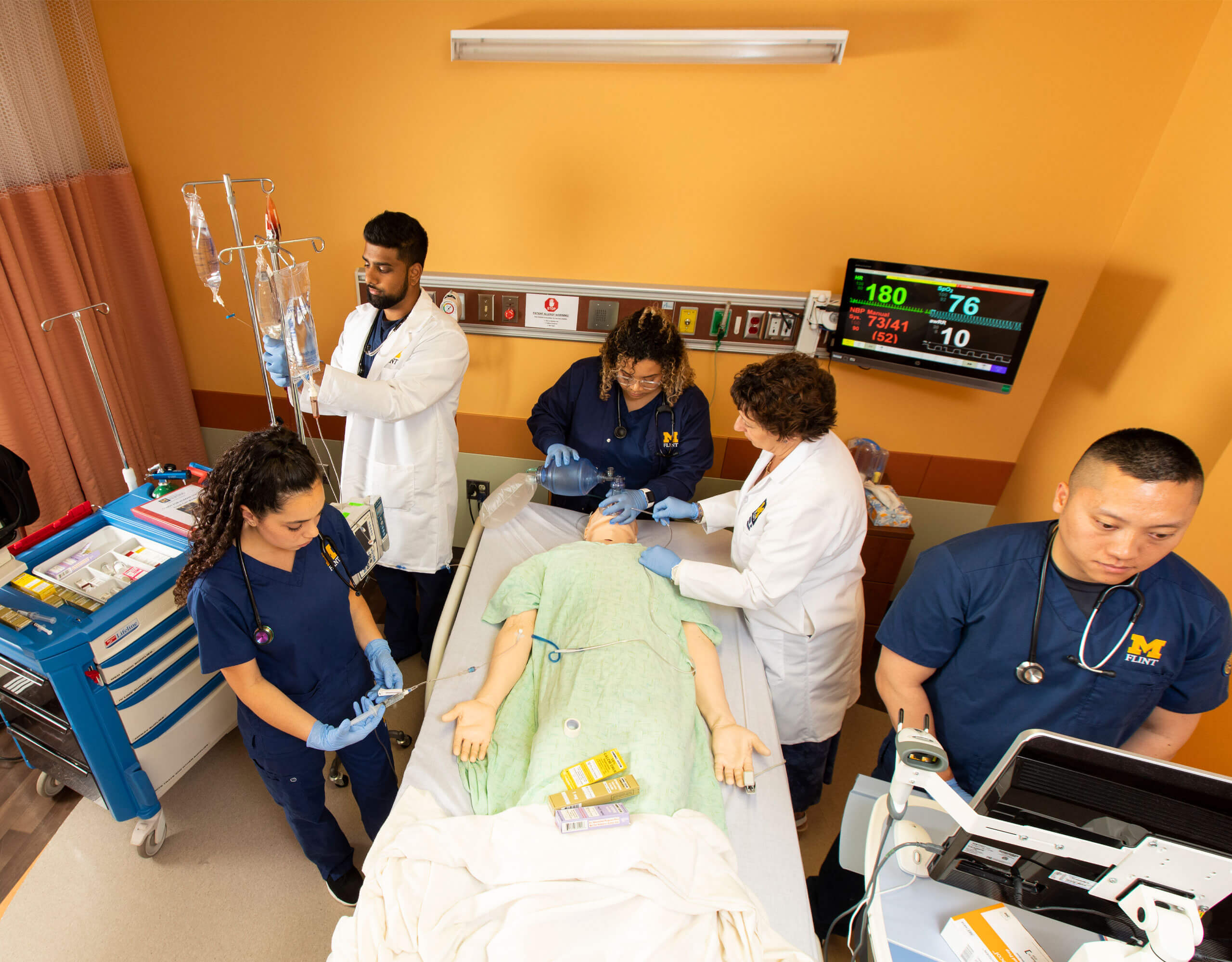 Choose from World-class Nursing Programs at UM-Flint
The School of Nursing at the University of Michigan-Flint specializes in preparing nurses to meet tomorrow's health care challenges today. We know that nurses live and work at the intersection of health, education and communities, working in a wide array of settings and practicing at a range of professional levels.

At UM-Flint, we know the achievement of health equity in the United States will be built on strengthened nursing capacity and expertise. Nurses are often the first and most frequent line of contact with people of all backgrounds and experiences seeking care. Nurses also represent the largest of the health care professions.

At UM-Flint, we are so proud of our nursing students and all they contribute to their communities. Many of them are already on the frontlines of COVID-19 pandemic, turning their classroom knowledge into real-world results before they graduate. So if you are interested in bettering yourself and the lives of people around you, come join us. We have accelerated programs, state-of-the-art simulation centers, lots of online options, and some of the best, most caring faculty in nursing education. We are here for you, so you can be there for your patients.
Bachelor's Degrees:
Nursing Traditional BSN
Nursing Accelerated BSN
Nursing BSN Completion
Veterans' Nursing BSN
Certificates:
Nursing Case Management
Nursing in Leadership and Management
Nursing and Healthcare Informatics
Sexual Assault Nurse Examiner Program
Master's Degrees:
Online BSN to DNP with MSN
Doctoral Degrees:
MSN-DNP Advanced Practice
MSN-DNP in Executive Leadership
Online BSN to DNP with MSN
Graduate Certificates:
Healthcare Simulation
Nursing: Adult Gerontology Acute Care Post Master's
Nursing: Psychiatric Mental Health Post Master's
Dual Degree In:
Nursing Practice/Business Administration: DNP/MBA