Breaking Boundaries
The mission of the University of Michigan-Flint Esports Program is to break the boundaries of "casual gaming." It is to provide students with new opportunities to further themselves academically in their majors, allow students to be creators and organizers in their respective professional fields, and to remain competitive while redefining what it means to be a part of the esports community.
Our vision is to be leaders in the field of esports by reinventing what it means to be a "gamer," while also encapsulating every prospective field in the ever-expanding industry.
Current Top Games
Rocket League, League of Legends, Valorant, and Overwatch.
Why Choose Esports?
Esports is one of the fastest growing industries in the world.
The overall popularity of esports has surged in recent years and its market value reflects that growth. In 2019, the esports global market was valued at approximately $957.5 million. Currently, that valuation is $1.08 billion, reflecting a 10% increase. That growth came despite a pandemic-related dip of $947.1 million. By 2024, the figure is projected to reach $1.62 billion.
Another area in esports that has surged in recent years is global viewership.
In 2019 there were an estimated 197 million esports enthusiasts and more than 200 million occasional viewers, whereas in 2021 these figures grew to nearly 234 and 240 million respectively. By 2024, these numbers are projected to grow to approximately 285 million enthusiasts and more than 291 million occasional viewers. Despite 57% of esports viewers being located in the Asia-Pacific region, viewing figures have been steadily climbing in the U.S. as well. From 2018-2021 viewing increased from 25.7 million to 39.2 million. American viewing is projected to exceed 46 million by the end of 2023.

Even though esports is still widely considered a niche subculture, the numbers above speak directly to its growing global popularity.
Work in the Industry
The field of esports is filled with opportunities for just about anybody looking to jump into an ever expanding industry. Not just limited to players and coaches, the esports workforce is filled with people interested in areas ranging from exercise science to computer programming, broadcast production to commentating, and event planning/management. It is an industry that has great promise for becoming more dominant and mainstream with each passing year.
"As a nascent multi-billion dollar market, investors would be wise to take esports seriously and consider getting in on the action while the industry is still in the early stages of its growth."

Tyler Gallagher (Author for Rolling Stone and Forbes)
Scholarship Opportunities
Although our esports program is only three years old, the program has grown at a staggering rate which has resulted in the university's allocation of scholarship funds so that all team participants have the chance to benefit.
General Information and Requirements
The esports scholarship is available each year to students in good academic standing, meaning that they must be making progress that is in line with their major's track and degree plan. Applicants must be esports participants. The scholarship is renewable upon reapplication each academic year.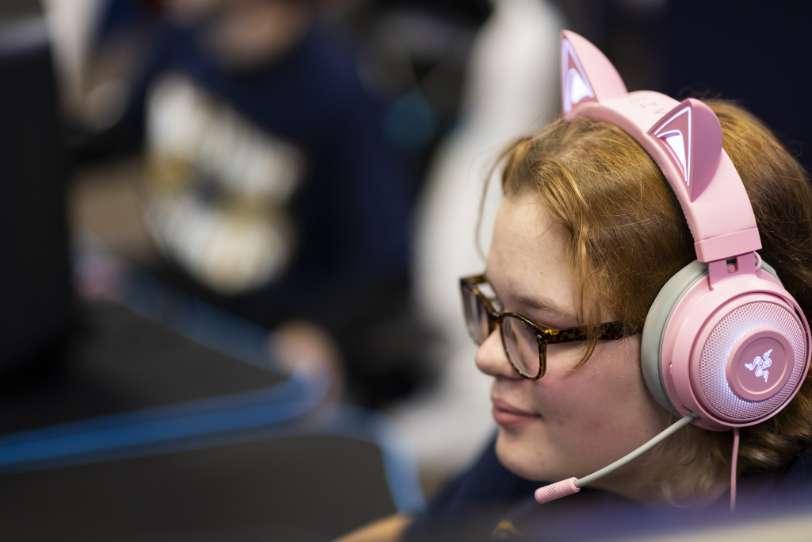 Meet the Team
Jason Gooding
By merging his technical knowledge and coaching background, Jason has created the University's only varsity sports program. He disbursed more than $10,000 in scholarships to students in the program in 2022 through a collaboration between university vendors and local donors. Additionally, the program has been awarded more than $40,000 in donations and sponsorships, thanks in part to the relationships Jason has established with local and national companies.
Luke Rimarcik
Luke is both a student and staff member at UM-Flint, majoring in communications with a minor in psychology. He is pursuing esports as his profession. Luke helps students achieve their esports aspirations by managing the esports program. He aspires to keep growing the program into one of the most notable in the country.
Gage Heiser
A lifelong Michigan football fan, the esports program has become his home away from home. Gage is currently working toward a degree in video game design and plays for the UM-Flint Rocket League team.
Our Sponsors