Solve Problems and Design the Future
If you're fascinated by complex technical problems and want an education that provides prestige, excellent employment opportunities, and financial stability, the Bachelor of Science in Mechanical Engineering program at UM-Flint is for you.

You'll gain theoretical knowledge in small courses that average just 20 students each, then apply it in our state-of-the-art engineering labs. There you'll work alongside other students, UM-Flint professors, industry professionals, and community leaders.

Our internships will provide you with real-world experiences and the chance to form professional relationships with UM-Flint's vast network of engineering partners.

You'll have lots of opportunities to share knowledge with your peers in our student chapters of three national engineering organizations:
American Society of Mechanical Engineers (ASME)
Society of Automotive Engineers (SAE)
Society of Women Engineers (SWE)
Our graduates report receiving engineering-related job offers from a wide range of top-tier companies. Consider these examples:
Allor Manufacturing
Fiat Chrysler
General Motors
Honeywell Technology Solutions
Magna Systems International
Nexteer Automotive
Total Security Solutions
ZEISS Industrial Metrology
UM-Flint's Mechanical Engineering program is accredited by the Engineering Accreditation Commission of ABET.
How the Program Works
The Bachelor of Science in Mechanical Engineering program starts with prerequisite courses in writing, calculus, differential equations, computer programming, chemistry, physics, and general engineering topics.

It then largely focuses on core courses in subjects like machine design, fluid mechanics, thermodynamics, heat transfer, manufacturing processes, and engineering design, among others.
---
Scholarships for Mechanical Engineering Students
In addition to being eligible for financial assistance through our Office of Financial Aid, you can apply for UM-Flint scholarships that are specifically for mechanical engineering students. They include:
James H. and Sara Burnham Memorial Scholarship
Ralph M. and Emmalyn E. Freeman Computer Science, Engineering, and Physics Scholarship
Quamrul Mazumder Engineering Scholarship
David G. Zick Scholarship
Engineers create the houses and buildings you're in, the cars you drive to work every day, and things as simple as the chairs you sit in. It is so impactful…"With engineering, I have the ability to use my passions, creativity, and more of my own skills to better the world.
---
Samantha Hunsinger
Mechanical Engineering 2022
Academic Advising for Mechanical Engineering Majors
With so many educational options available to you as a UM-Flint mechanical engineering student, it's a good idea to have a strong relationship with our academic advisors. They can help you choose classes, explore career options, and more.

Shannon Resowski is the dedicated advisor for UM-Flint engineering students. You can contact her at [email protected].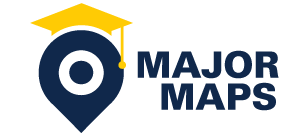 What will your experience as an engineering major be like at UM-Flint? To help answer that question, we've prepared a major map. You'll find a year-by-year outline of classes, extracurricular activities, research opportunities, and more. Download the map and start preparing your path to success.
---
Career Opportunities in Mechanical Engineering
Job growth for mechanical engineers will be 7 percent through 2030, according to the U.S. Bureau of Labor Statistics. That's the average for all occupations. The BLS projects there will be about 20,200 job openings for mechanical engineers each year through 2030. The latest median salary for the profession is $95,300 per year.

More information about careers in mechanical engineering is available from the American Society of Mechanical Engineers and the U.S. Bureau of Labor Statistics.
---
Get Started on Your Engineering Career Today
If you're passionate about solving complex technical problems, apply to UM-Flint's Bachelor of Science in Mechanical Engineering program today. If you have questions contact Shannon Resowski, the dedicated advisor for UM-Flint engineering students, at [email protected].
UM-FLINT NOW | News & Happenings