Put Scientific Theory into Practice, Gain Career Skills
At UM-Flint, our innovative physics classrooms let you apply theoretical instruction to hands-on lab learning within minutes. We also cap our introductory courses at 32 students, allowing for more individualized attention and support from our faculty.

As the most fundamental science, physics bridges a number of different scientific disciplines and career fields. Even if you don't plan a career in physics, our courses in physics, astronomy, scientific inquiry, and integrated science education will prepare you for a career in fields that incorporate these subjects – fields like biology, chemistry, computer science, digital manufacturing, education, and health sciences, among others.

Physics emphasizes critical thinking followed by experiments. As a physics major, you learn skills that employers value across a wide range of careers. Some of them include:
Critical thinking
Complex problem solving
Application of theoretical knowledge to real-world settings
Research design and analysis
Clear oral and written communication
Collaborative teamwork
Over the last two decades, more than two-thirds of UM-Flint physics graduates have gone on to doctoral programs at schools like UC-Berkeley, Yale, and Texas A&M. The other third obtained professional positions in the science and engineering fields.
Why UM-Flint?
The quality of our faculty is the most important reason to study physics at UM-Flint. They're scholars with expertise in areas such as applied physics, theoretical physics, and astronomy who are engaged in research. But they're here because they love teaching and helping students succeed.

Here are a few other reasons you should study physics at UM-Flint:
Almost all of our graduates give presentations at a local research conference, and many present at regional and national conferences of the American Physical Society.
You can gain valuable paid experience as a supplemental instructor for physics courses.
The Society of Physics Students club gives you the opportunity to meet students with similar interests, learn about research on campus, and take trips to places like the Argonne National Lab in Chicago.
You can study cutting-edge ideas by joining a faculty member's research group.
Our students regularly travel to Conferences for Undergraduate Women in Physics around the country.
Our monthly Physics Lunches bring together faculty, students, and a guest speaker to talk about research and other topics.
In a paid or volunteer role, you can develop your research skills while working side-by-side with faculty on state-of-the-art research in the Undergraduate Research Opportunity Program or its summer counterpart, the Summer Undergraduate Research Experience, which offers full- and half-time positions.
By volunteering at UM-Flint's High School Physics Competition, you can help introduce high school students to physics principles and experimentation.
Local science initiatives like the Flint Regional Science & Engineering Fair, UM-Flint's Super Science Friday, and the UM-Flint GEMS summer camp would welcome your volunteer help.
Our direct high school outreach and annual AstroNite event provide great opportunities for community engagement.
Ghosh earned her PhD from the University of Connecticut's Materials Science and Engineering program. She has held graduate research positions at institutions such as Los Alamos National Laboratory and is currently a post-doctoral researcher at Oakridge National Laboratory.

"The UM-Flint campus has really given me a lot. I found so many opportunities that I'm not sure I would have gotten at a larger school," Ghosh says. "I really enjoyed my time and the personal connections I was able to make." Read more.
---
Ayana Ghosh
Physics/Abstract Mathematics 2015
Physics Programs at UM-Flint
We offer two majors. The first one has honors versions:
We also offer a 22-credit physics minor that's available to all UM-Flint students.
Scholarships for Physics Majors
At UM-Flint, we have several scholarships specifically for physics students. They include:
Loretta Dauwe Physics Scholarship
Ralph M. and Emmalyn E. Freeman Computer Science, Engineering, and Physics Scholarship
David G. Zick Scholarship
Our Office of Financial Aid offers a variety of other scholarships, grants, loans, and work-study opportunities. They're all part of our effort to make your world-class University of Michigan-Flint education affordable.
---
Academic Advising for Physics Majors
With so many educational opportunities and career paths available to our physics majors, we strongly encourage you to meet regularly with your academic advisor. Our advisors can help you choose classes, navigate program requirements, overcome personal issues, find internships, explore graduate school and career options, and more.

Jeff Dobbs is the dedicated physics advisor. You can contact him at [email protected] or (810) 766-6676. You also can make an appointment with him online.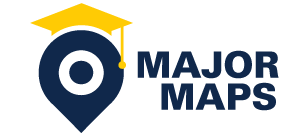 To help you envision what your experience as a physics major will look like, we've created a major map. It provides year-by-year details about classes you'll take, experiences available both on and off campus, preparing for life after graduation, and more. Download the major map today and start planning your future.
Career Opportunities in Physics
Your bachelor's degree in physics from UM-Flint will open the door to a huge range of career options. Consider these job projections for just a few possibilities from the U.S. Bureau of Labor Statistics:
Computer Systems Analysts

Job growth through 2031: 9 percent
Job openings annually through 2031: 44,500
Typical entry-level education required: Bachelor's degree
Median annual salary: $99,270
Mechanical Engineers

Job growth through 2031: 2 percent
Job openings annually through 2031: 17,900
Typical entry-level education required: Bachelor's degree
Median annual salary: $95,300
Physicists and Astronomers

Job growth through 2031: 8 percent
Job openings annually through 2031: 2,100
Typical entry-level education required: Doctoral degree
Median annual salary: $147,450
Get Started on Your Physics Career Today
If you want a degree that provides a strong academic foundation for graduate school and skills that open the door to a wide range of exciting career opportunities, apply to UM-Flint's physics program today. If you have questions, you can contact the program's dedicated academic advisor, Jeff Dobbs, at [email protected] or (810) 766-6676. You also can make an appointment with him online.
UM-FLINT NOW | News & Happenings