Learn High-Demand Technical Skills
How would you like to develop high-tech skills needed by most businesses, educational institutions, nonprofit organizations, government agencies, and more? And where the median salary is around $100,000 annually?

You can achieve all of this with a Bachelor of Science in Computer Science degree or a Bachelor of Science in Computer Information Systems degree from the University of Michigan-Flint. Our graduates become software developers, database administrators, systems administrators, usability engineers, data scientists, IT project managers, and more.

While the CS and CIS programs have many similarities, they're focused slightly differently:
The Bachelor of Science in Computer Science program focuses primarily on software and software systems, with classes spanning from the theoretical to the practical. You'll learn about software development, engineering, computer networking, and information security. You'll also be trained in programming languages such as Java, JavaScript, C++, and SQL through hands-on projects.
The Bachelor of Science in Computer Information Systems program focuses largely on using computers to manage information in a business environment. It's aimed at students who want to work in system analysis, business database management, and web or mobile application programming.
With either program, you'll benefit from smaller classes where you get more personal attention, faculty that specialize in advanced topics, classes that emphasize collaborative skills that are essential in today's work environment, and the ability to customize your program with advanced electives.

As a computer science or computer information systems student at UM-Flint, you'll have the opportunity to conduct research through the Undergraduate Research Opportunity Program. UROP allows students at any education level to perform paid or volunteer research with faculty on cutting-edge projects.

You'll also have the chance to meet and learn with students who share your interests and career aspirations in various groups. You can choose from an active Association of Computing Machinery student chapter, an e-sports club, a game design club, and the Upsilon Pi Epsilon honor society.
CS/CIS Programs at UM-Flint
We offer a wide variety of computer-related programs for undergraduate and graduate students. For undergrads, two majors (and their honors versions) are available:
Students in either program can opt for the Computer Science and Information Systems BS/MS Joint Degree program. It allows students to earn their master's degree with just 21 additional credit hours.

Four minors are designed for undergraduates who aren't CS/CIS majors:
Master's degree programs are available:
Andrew Mrazik conducted AI and machine learning research with Dr. Halil Bisgin, studying the biomarkers of disease. He stated, "This experience meant a lot to me in terms of getting a sense of how real-world computer science skills are used. I saw this as a great opportunity to build my resume as well. I'm extremely happy our research was published and am hoping it will help to advance my career as I apply to companies in the future." He is now a Senior Implementation Analyst at Novasyte LLC.
---
Andrew Mrazik
Computer Science 2020
Scholarships for CS/CIS Majors
Besides being eligible for financial assistance through our Office of Financial Aid, you can apply for UM-Flint scholarships that are specifically for computer science and computer information systems majors. They include:
Ralph M. and Emmalyn E. Freeman Computer Science, Engineering, and Physics Scholarship
Susan G. Helser Computer Science Scholarship Fund
G. Radhabai and A.V. Rajagopal Scholarship
---
Academic Advising for CS/CIS Majors
At UM-Flint, our computer science and computer information systems students have so many options and opportunities that it can be hard to stay on top of everything. That's where our academic advisors can help. They can make sure you're fulfilling program requirements, help you choose classes, point you toward opportunities you might have missed, and generally keep you on track for success.

The dedicated CS/CIS advisor is Jeff Dobbs. You can contact him at [email protected] or (810) 766-6676. More help is available from Myesha Cannon, our career advisor. You can make an appointment with her in Handshake.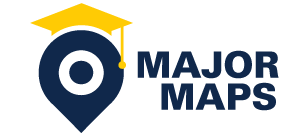 To help you envision what your experience as a CS or CIS major would look like, we've prepared a major map. For each year, it has details about classes, opportunities both on and off campus, preparing for life after graduation, and more. Download the major map today and start planning your future.
Career Opportunities in Computer Science / Computer Information Systems
Demand for workers in computer and information technology occupations will remain strong in coming years, according to the U.S. Bureau of Labor Statistics. The BLS projects that employment in these fields will grow 13 percent through 2030, faster than the 7.7 percent average for all jobs.

And these jobs pay well. The median annual salary for computer and information technology workers is $97,430, according to the latest BLS data.
Here are BLS employment projections for some specific jobs that typically only require a bachelor's degree for entry-level positions:
Computer systems analysts

Job growth through 2030: 7 percent
Job openings annually through 2030: 47,500
Median annual pay: $99,270
More information about jobs in computer science and information technology is available from the U.S. Bureau of Labor Statistics.
Get Started on Your CS/CIS Career Today
If you want to learn high demand, high-tech skills that can command hefty salaries, apply to the University of Michigan-Flint's Computer Science or Computer Information Systems programs today. If you have questions, you can contact the programs' dedicated academic advisor, Jeff Dobbs, at [email protected] or (810) 766-6676.
UM-FLINT NOW | News & Happenings