Master of Science in Biology (MS)
The Master of Science in Biology program at the University of Michigan-Flint equips you with the knowledge and experiences needed to be an essential member of a research laboratory and play an investigative role in scientific discoveries that change lives.

Researchers in pursuit of breakthroughs in biology must have exceptional critical thinking skills and extensive training. Specifically designed for students who are driven to pursue biological research in the private or public sectors or teach secondary science, the MS in Biology blends sophisticated hands-on training and techniques within new areas of research.

Through the on-campus Biology master's degree program, you advance your laboratory and field skills and learn to apply critical thinking to ground-breaking scientific research.
Why Earn Your Biology Master's Degree at UM-Flint?
Flexible Part-/Full-time Program Format
You have the option to pursue your MS in Biology degree on a part-time basis to accommodate your busy schedule as a working professional. Or you may choose to immerse yourself in this program on a full-time basis to fast-track your degree completion in as little as 12 months. You also have the ability to select a thesis or non-thesis track, depending on your academic goals and interests.
State-of-the-Art Laboratories
At the University of Michigan-Flint, we make sure to support your innovation and scientific pursuit with first-class facilities and equipment. You have access to UM-Flint's laboratories and equipment which allow you to test your hypotheses and explore new findings using the latest research and analytic technology.
Research Opportunities
As part of this rigorous master's in Biology program, you work alongside faculty members who are conducting important and diverse research across the field of biology. The faculty of the College of Innovation & Technology (CIT) are deeply engaged in research. These scholarly pursuits are diverse in subject matter and allow faculty to engage with students, colleagues, the community, and industry on many projects.

Check out some of the current research activities taking place in CIT.
Chloe S.
[email protected]
Educational Background: I started at Mott and then transferred to MSU before completing my undergraduate degree at UM-Flint
What are some of the best qualities of your program? The field experience under the prime guidance of Heather Dawson. She has provided a magnitude of experiences for me and I am truly privileged to be under her guidance.

Listen to our conversation with Chloe on the Victors in Grad School podcast!
MS in Biology Program Curriculum
UM-Flint's Master of Science in Biology program offers a flexible and broad curriculum that encourages original scientific research and innovation in biological sciences. Building on your undergraduate degree in biology or a related life science degree, the master's in Biology program curriculum integrates the latest advances in biology, including new research techniques and areas of study.

With engaging lectures and hands-on laboratory experiments, students not only acquire advanced knowledge in Cellular Biology, Ecology, and scientific methodology but also the practical application of the knowledge in real-world settings.

In the program of study, you may choose a thesis track or a non-thesis track. The non-thesis track requires a minimum of 32 credits of study to graduate, while the thesis track requires at least 30 credits.

Review the detailed Master of Science in Biology program curriculum.
---
Academic Advising
At UM-Flint, we provide a dedicated academic advising expert to help guide your educational journey toward the MS in Biology program. Whether you need assistance with selecting courses or choosing your concentration, you may contact our Graduate Programs Manager!
For any questions, contact Aubree Kraut at [email protected] or Schedule an appointment today.
What Can You Do with a Master's Degree in Biology?
With a master's degree in Biology, you are ready to pursue a wide variety of rewarding careers in the growing field of life sciences, especially in the state of Michigan. In 2022, Michigan planned to grow the life sciences and agribusiness industries and create over 280 high-paying jobs.

According to the Bureau of Labor Statistics, Biological Scientists' median annual wage is $106,790 in the Detroit-Warren-Dearborn metropolitan area, while the national median is $90,010.

Common career paths with an MS degree in Biology:
Research Scientist
Wildlife Biologist
Molecular Biologist
Microbiologist
Preparation for professional school such as Medical, Dental, Veterinary
Preparation for Ph.D. programs in the life sciences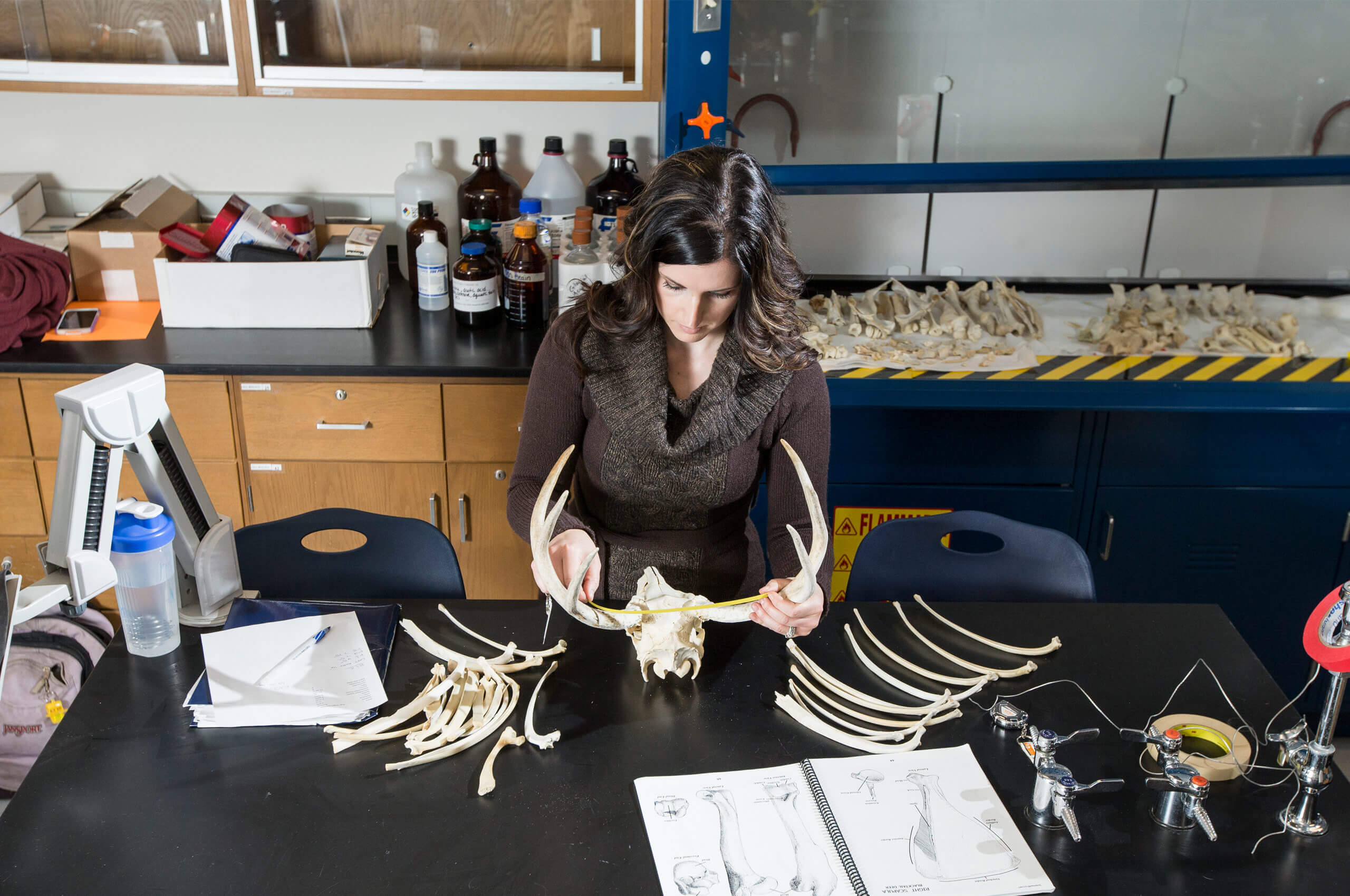 Admission Requirements
A bachelor's degree in biology or related life science from a regionally accredited institution
Minimum overall undergraduate grade point average of 3.0 on a 4.0 scale.
Completion of the Graduate Record Exam (GRE) requirement is currently being waived.
A minimum grade point average of 3.0 in required prerequisite courses.
Completion of the following prerequisites at a regionally accredited university:

Cell Biology, Ecology, Genetics
Organic Chemistry
Pre-Calculus Mathematics
General Physics
Statistics (preferably Biostatistics) recommended
Applicants who have completed a BS in Biology at UM-Flint automatically fulfill these prerequisites.
---
Applying to the Master of Science in Biology Program
Submit an online application below to be considered for admission to the MS in Biology on-campus program. Other materials can be emailed to [email protected] or delivered to the Office of Graduate Programs, 251 Thompson Library.
$55 application fee (non-refundable)
Official transcripts from all colleges and universities attended
For any degree completed at a non-US institution, official transcripts must be submitted for credential review to an approved credentialing agency. You must submit your transcripts for a course-by-course evaluation. Once the evaluation is completed, the transcript course-by-course evaluation report must be submitted to the University of Michigan-Flint. This document must be submitted directly from the transcript evaluation company.
If English is not your native language, and you are not from an exempt country, you must demonstrate English proficiency.
Statement of Purpose: include information on why you are interested in the MS in Biology program, pertinent background information, and long-term goals. Applicants interested in the thesis option should indicate two-three faculty members they would consider as potential thesis advisors.
GRE scores (general) sent to the University of Michigan-Flint Institutional Code #1853

GRE requirement is currently being waived.

International students must submit additional documentation.
This program is an on-campus program with in-person courses. Admitted students can apply for a student (F-1) visa. Students living abroad are unable to complete this program online in their home country. Other nonimmigrant visa holders currently in the United States please contact the Center for Global Engagement at [email protected].
---
Application Deadlines
Submit all application materials to the Office of Graduate Programs by 5 p.m. on the day of the application deadline. The master's in Biology degree program offers rolling admission with monthly application reviews. To be considered for admission, all application materials must be submitted on or before:
Fall (early review*) – May 1
Fall (final review) – August 1
Winter – December 1
Summer – April 1
*You must have a complete application by the early deadline to be eligible for scholarships, grants, and research assistantships.
Admission Deadlines for International Students
International students are required to apply earlier than the deadlines posted here. The final deadlines for international students are May 1 for the fall semester, and October 1 for the winter semester.
---
Learn More about UM-Flint's Master's in Biology Degree
If you are ready to blaze a trail in the world of biology and life sciences, join the Master of Science in Biology degree program at the University of Michigan-Flint! Under the guidance of renowned faculty, you have the opportunity to participate in cutting-edge research or conduct your individual research in your area of interest.

Ready for the next step? Apply to UM-Flint's master's in Biology program or request information today!
UM-FLINT BLOGS | Graduate Programs