Fueling Growth Through Finance
Finance is a broad term that describes activities associated with banking, leverage or debt, credit, capital markets, money, and investments. Finance also encompasses the oversight, creation, and study of money, banking, credit, investments, assets, and liabilities that make up financial systems.

A successful career in finance calls for a unique set of skills; it is ideally suited for an inquisitive and self-possessed person. Finance students will make use of their mathematical aptitude and ability to take an organization's or client's goals, resources and options into consideration while making suggestions for their continued financial growth.
---
Why Earn Your Bachelor of Business Administration in Finance at UM-Flint?
Professional Preparation
UM-Flint's Bachelor of Business Administration in Finance prepares students for positions in corporate finance, banking and financial institutions, investment, and more. The finance curriculum emphasizes expanding in three key areas of finance through courses on 1) Forecasting, portfolio theory, and security analysis, 2) Options and futures markets, accounting, money and banking, management of working capital, and 3) Management of financial institutions. Our program prepares students for additional certifications in the finance world such as the Chartered Financial Analyst (CFA) or Certified Financial Planner (CFP).
100% Flexible Online Program Option
The finance degree program aids working students by adding the flexibility of completing the BBA degree 100% online. A portion of our finance students transfer to UM-Flint's through our advantageous transferable credit partnerships. We also welcome first-time freshmen, no matter your skillset, you are receiving a valuable finance education. The BBA program includes a traditional face-to-face format for regional-based students.
Financial Expertise and Experience
The Financial Management Association assists students interested in learning about finance and challenges members on various aspects of finance such as investment banking, investment trading, investment management, and business finance. This student organization has a well-funded stock broker account for students to practice day trading and practice real-life trade decisions. This finance student organization travels domestically to financial conferences for case competitions. In 2020, the Financial Management Association received top three honors for the deliverables of their case focused on the macroeconomic, quantitative, and qualitative analysis of Peloton in New York City.
Expert Faculty
UM-Flint's Finance faculty bring practical working knowledge into the learning environment and are experienced, tested, and respected global experts in their field. Like all University of Michigan instructors, they have a passion for education and years of experience teaching and researching current business issues. Finance faculty members are available to consult with students wishing to pursue careers in any of the above-mentioned areas.
Bachelor of Business Administration in Finance
Within the BBA degree, finance students will take 18 credits of specialized finance courses. Students may choose from:
A. Major Core Courses
At least five from:
FIN 363 – Investments (3)
FIN 365 – Portfolio Theory and Security Analysis (3)
FIN 461 – Financial Management Application and Strategy (3)
FIN 463 – Financial Engineering and Risk Management (3)
FIN 466 – International Finance (3)
FIN 468 – Management of Financial Institutions (3)
B. Major Electives
At most one from:
ACC 321 – Intermediate Accounting I (3)
ECN 314 – Money and Banking (3)
FIN 316 – Business Conditions Analysis (3)
FIN 394 – Finance Internship Program (1-3)
FIN 467 – Financial Statement Analysis (3)
MTH 378 – Theory of Interest (3)
Austin McIntosh
Finance, 2021
I knew I liked UM-Flint before actually attending, but once I got through my first year it felt like a perfect fit for me. Between all of the amazing faculty, students, and opportunities, if I had the chance to do it all over again I'd still choose UM-Flint. I chose to be a Finance major because of the incredible reputation that the School of Management has and because I knew this was a career I could see myself succeeding in. Joining the Financial Management Association on campus opened so many doors for me, the experiences I got, the people I met, and the skills I picked up because of it are unlike anything else.
Finance Career Outlook
UM-Flint Finance students from 2019-2021 have interned at Randy Wise Automotive, Sovita Credit Union, PWC, Continental Automotive, UHY LLP, Jackson National Life, Ranchor Investment Advisors, Robert Bosch, Barton Malow, ELGA Credit Union, OLV Investments, City of Flint, Cooper Commercial group, Michigan Economic Development Corporation, Huntington National Bank, and more for university course credit.

Finance alumni are currently employed at a variety of organizations such as United Shore, Quicken Loans, Flagstar Bank, Chase Bank, Elga Credit Union, Financial Plus Credit Union, Sovita Credit Union, Huntington Bank, Greenstone Bank, Plante Moran, Hurley Medical, McLaren Medical, Diplomat, Mott Foundation, General Motors, Lafontaine, Nexteer, Deloitte, Skypoint Ventures, and more.

The average salary for a Financial Analyst is $83,660 per year in 2020 according to the Bureau of Labor Statistics. The projected percent change in employment from 2019 to 2029 is growing faster than average at 5%.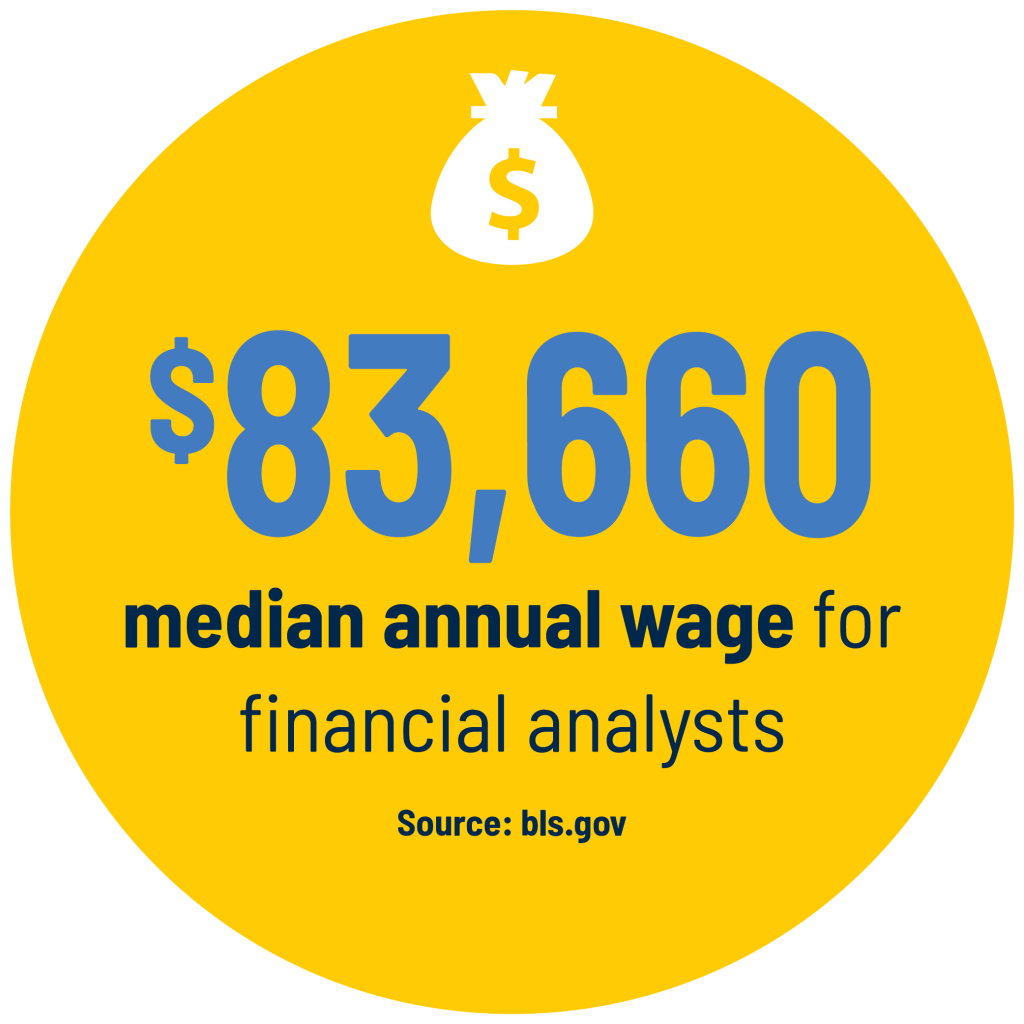 The top occupations for someone with a finance degree are:
Financial Planner
Financial Analyst
Investor Relations Associate
Budget Analyst
Actuary
Accountant
Credit Analyst
Top Industries:
Corporate Finance
Financial Planning
Banking and Financial Institutions
Investment
Non-profit
Healthcare
Learn More about the Bachelor of Business Administration in Finance
Ready to use your technical skills and creativity to create a career in Finance? Find all the ways UM-Flint can help you become a leader in nearly every sector. Apply today or contact us to learn more.