Create Your Vision
Entrepreneurship is the capacity and willingness to develop, organize and manage a venture along with any of its risks. Innovation Management is handling all the activities needed to "introduce something new". This includes: the idea, development, and implementation, as well as the product launch and introduction of new internal processes.
---
Why Earn Your Bachelor of Business Administration in Entrepreneurship & Innovation Management at UM-Flint?
Flint is at the forefront of entrepreneurship and has established a community of entrepreneurs and local businesses. The University of Michigan-Flint's direct connection to this network is the Hagerman Center for Entrepreneurship & Innovation. This center was created to facilitate entrepreneurial and innovative skills to help graduates thrive and be successful with a variety of activities such as entrepreneurial workshops, idea pitch competition, networking,workshops, and events.
Professional Preparation
UM-Flint's Bachelor of Business Administration in Entrepreneurship & Innovation Management emphasizes entrepreneurship, innovation and new product development management, conflict resolution and negotiation, team-building, and project management. It provides depth and breadth of educational exposure for students interested in either starting their own business or working in entrepreneurial and innovative organizations.
100% Flexible Online Program Option
The entrepreneurship and innovation management program is offered 100% online to accommodate students' busy lifestyles. Students transferring credits from another institution or first-time in college have the convenience to build their BBA with traditional face-to-face courses, online courses, or a mix of both.
Be an Entrepreneur By Doing
The Entrepreneurs Society at the School of Management (SOM) gives students an opportunity to build a network with like-minded students and work on projects that interest you!. This student club provides mentoring and frequently hosts guest speakers to coach students in areas of entrepreneurship, career building, and how to be a leader. The Entrepreneurs Society won the global chapter of the year in 2019 out of 600+ other student organizations. Interested students can email Michael Witt, Lecturer IV of Business Law & Management, Entrepreneur-in-Residence.
Centers for Inspiring Entrepreneurship
The Hagerman Center for Entrepreneurship & Innovation is the heart of entrepreneurship within the SOM. The Hagerman Center facilitates entrepreneurial knowledge and interest among all UM-Flint students across campus. The center connects entrepreneurial students with appropriate resources and builds entrepreneurial excitement beyond the classroom, all while serving the City of Flint.
Scholarships Support for Being Innovative
The Hagerman Center for Entrepreneurship and Innovation provides a handful of competitive scholarships to entrepreneurial inclined students. The Hagerman and Whitener Scholars (student scholarship recipients) gain valuable experience working with Centers related projects and with faculty who are teaching and conducting research in entrepreneurship and innovation. The Center offers opportunities for the student scholars to meet with community business leaders as they build a network of professional contacts. The Center awards more than $50,000+ total for entrepreneurship and innovation scholarships. Six scholarships are available, several of which are over $10,000, and are made possible by the gifts from Phil Hagerman, Flint community business leader, and SOM alumnus, Steve Whitener '77.
Expert Faculty
UM-Flint's Entrepreneurship & Innovation Management faculty bring practical working knowledge into the learning environment and are experienced, tested, and respected global experts in their field. Like all University of Michigan instructors, they have a passion for education and years of experience teaching and researching current business issues. Entrepreneurship & Innovation Management faculty are available to consult with students wishing to pursue opening their own company and careers in entrepreneurship and innovation management.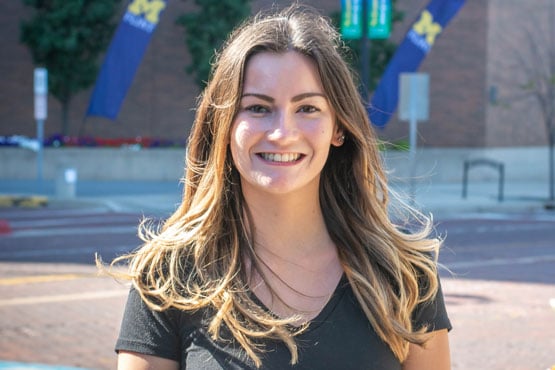 Elisabeth Hamilton
Marketing and Entrepreneurship & Innovation Management, 2020
Being part of a University that is so welcoming has made such a positive impact on my overall college experience. New students should take advantage of the countless opportunities and resources offered at UM-Flint early on in their academic careers. I can't express how grateful I am for the opportunities I have had through the School of Management and for being an active member of student organizations like Entrepreneurs Society. I have gained real-life career experience and made professional connections. I truly believe I would not be as prepared for the real world if it wasn't for the Entrepreneurs Society.
Bachelor of Business Administration in Entrepreneurship & Innovation Management
Within the BBA degree, entrepreneurship students will take 18 credits of specialized entrepreneurship and Innovation courses. Students may choose from:
A. Major Core Courses
EIM 240 – Introduction to Entrepreneurship (3)
EIM 349 – Innovation Management (3)
EIM 440 – Entrepreneurship and New Venture Creation (3)
MKT 332 – Marketing Research (3)
MKT 435 – New Product Development (3)
B. Major Electives
At most one from:
MGT 347 – Managing Projects and Teams (3)
MGT 397 – Project Management (3)
MGT 443 – Developing Negotiations Skills (3)
EIM 394 – Entrepreneurship Internship Program (1-3) (Must be taken for 3 credits)
Entrepreneurship & Innovation Management Career Outlook
UM-Flint entrepreneurship & innovation management students from 2019-2021 interned at 100K Ideas, the Mott Foundation, and at the UM-Flint Hagerman Center for Entrepreneurship & Innovation. Many students focus on launching their own business or growing their existing company while in college.

Our EIM alumni worked at a variety of organizations ranging from non-profits, corporations, self-employed, or Fortune 500 companies. Entrepreneurship & Innovation Management alumni are currently employed at 100K Ideas, Ferris Wheel, United Shore, StockX, Skypoint Ventures, and more.

A salary for someone that holds an Entrepreneurship & Innovation Management degree can largely vary depending on what that individual is doing. According to the Bureau of Labor Statistics, the average salary for a Project Management Specialist and Business Operations Specialist was $77,420 in 2020. The projected percent change in employment from 2019 to 2029 is growing faster than average at around 6%.
The top occupations for someone with an Entrepreneurship & Innovation Management degree are:
Starting the Company of their Dreams!
Working in a Start-up
Franchise Owner
Project Manager
Sales
Corporate Entrepreneur
Top Industries:
Technology
Healthcare/Medicine
Real Estate
Consumer Retail
Corporate Business
Learn More about the Bachelor of Business Administration in Entrepreneurship & Innovation Management
If you're ready to build the skills to start your own company or lead an existing organization to new heights, UM-Flint is here to support you along the way. Apply today or contact us to learn more.